From the Sonoran News 'the conservative voice of Arizona', posted yesterday (bold and enlarged type is my emphasis added - DG):
BY LINDA BENTLEY | MAY 9, 2012
JT Ready's only 15 minutes of fame
Once it was discovered, Pearce and everyone else involved in the illegal immigration debate immediately distanced themselves from Ready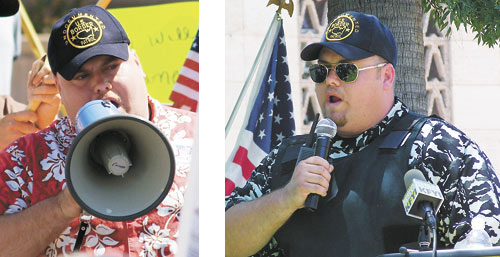 Photos by Linda Bentley
GILBERT – Only minutes after news reports surfaced about Jason Todd "JT" Ready, 39, being implicated as the gunman in a murder/suicide last Wednesday that took the lives of his girlfriend Lisa Mederos, 47, her daughter Amber Mederos, 23, Amber's 16-month-old daughter Lilly and her 24-year-old boyfriend Jim Hiott, before turning the gun on himself, Ready's Facebook page administrator claimed the murders were the result of a drug cartel hit.
However, according to Gilbert Police Sgt. Bill Balafas, the incident is believed to be a domestic violence situation.
According to Balafas, a domestic dispute ensued inside the Gilbert home Ready shared with Mederos, which resulted in a 911 call.

Gilbert police announced shortly after the incident there was no reason to believe anyone else was involved and they were not searching for any suspects.

Balafas stated, "There was a 911 call regarding that argument. In the midst of that call, a shooting occurred. Mr. Ready shot and killed all four victims and then killed himself."

He did say they were awaiting confirmation through the medical examiner's report and ballistics tests.
The rest of the article continues
here
.
The one thing that the Sonoran conservative news gets a bit wrong is that there appears to have been much more of a clear indication at a much earlier date than they acknowledge that J.T. Ready was a neo-nazi. It was called to their attention, and rejected, not simply ignored.
However much the Arizona right wingers want try to distance themselves from J.T. Ready and his lunatic fringe, they are firmly attached to it like a fly on fly-paper.